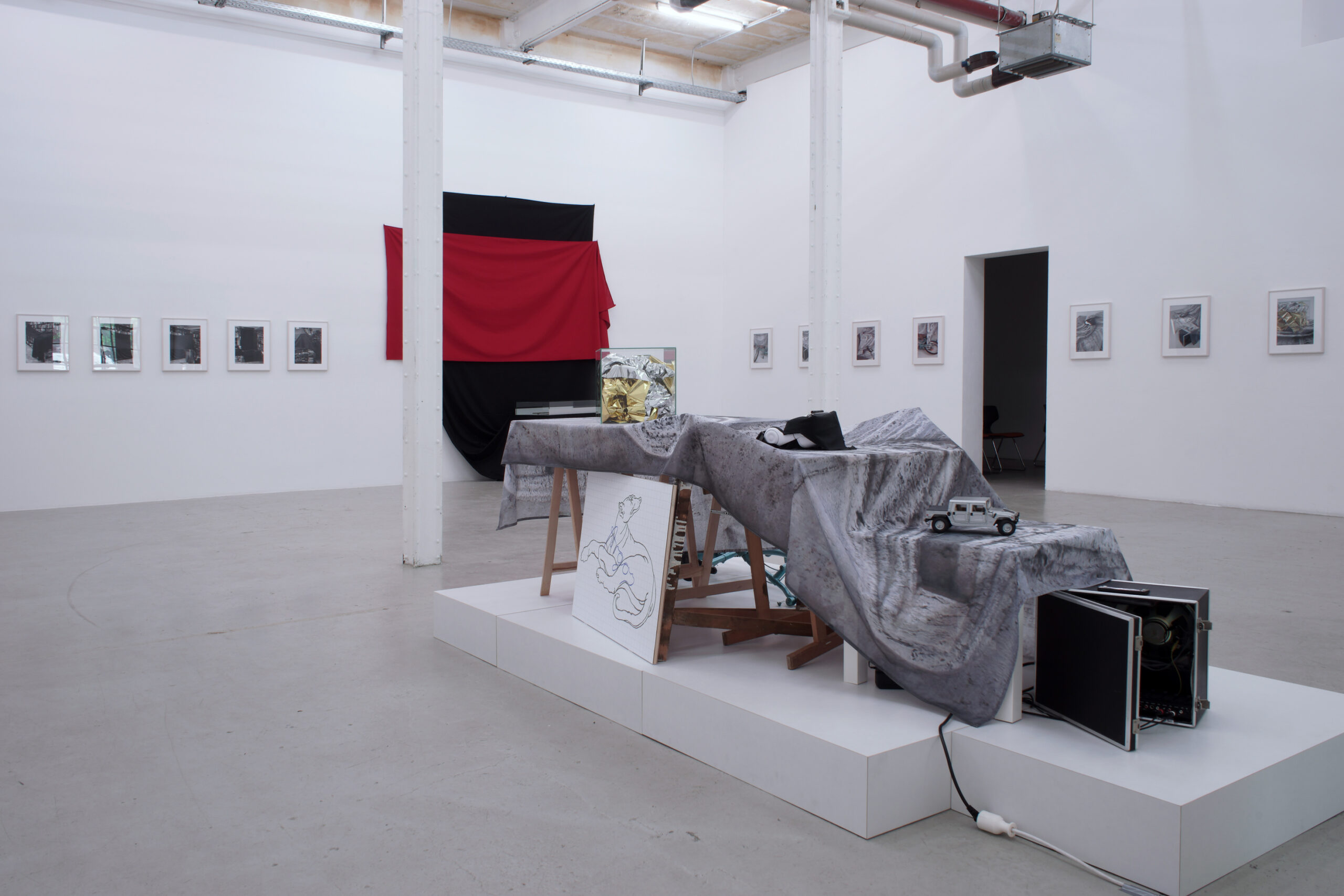 Photography, film, historical research and Doris Frohnapfels` travels form a complex process of tracing in both analogue and medial space together. In a work-in-progress process, the individual structure then develops in accordance to experimental arrangements. The exhibition Conflict & Collapsing Sites shows two sculptural stagings that were created in the confrontation with momentous transformation processes in political and urban space.
The work Conflict & Collapsing Sites – whose research and photographs were created in 2016/17 during a studio fellowship of the city of Cologne in Istanbul – shows how the search for traces in urban space is confronted with the harsh reality of a decaying area. Here and there individual niches are still granted, but over time most of the houses have already been deleased or abandoned. Left with unsettled ownership, occupied, they have been stonewalled, barricaded or sold to real estate companies by middlemen, some were then luxuriously renovated and some were renovated on one`s own initiative: you find yourself in a formerly historical residential quarter destroyed to the point of eradication.
A large selection of the photographs are collected in a publication in two separate books and are exemplarily enriched by diary-like texts by Frohnapfel. The photographs exhibited here, which accompany Conflict & Collapsing Sites, were taken in the second-hand book-passage Aşlihan in Istanbul and cast a retrospective glance at the setting that led to this production.
Bewaffnete Götter is the result of the "work-in-progress" installation Ein Versuch, eine Verlagerung, which was developed in 2017 at Galerie M29 Richter in the series "wip": (work in progress). Here at Galerie b2_, both the installation, which changed during the course of the project and was recorded, is shown in its final state, as well as the montage film as an independent work. Bewaffnete Götter places the historical Pergamon Altar as a reference system for a monument of war in a current political and cultural context. The visual language shows the war from a different, reduced and also personal point of view, which stands in contrast to the historical paintings and reliefs of war battles, the monuments in public space and the current (virtual) media images. An extensive textbook explains many of the images and sounds shown in the film.