Agata Madejska im Gespräch mit Heide Nord und Carolina Perez Pallares

www.madejska.eu
Agata Madejska in conversation with Heide Nord and Carolina Perez Pallares

www.madejska.eu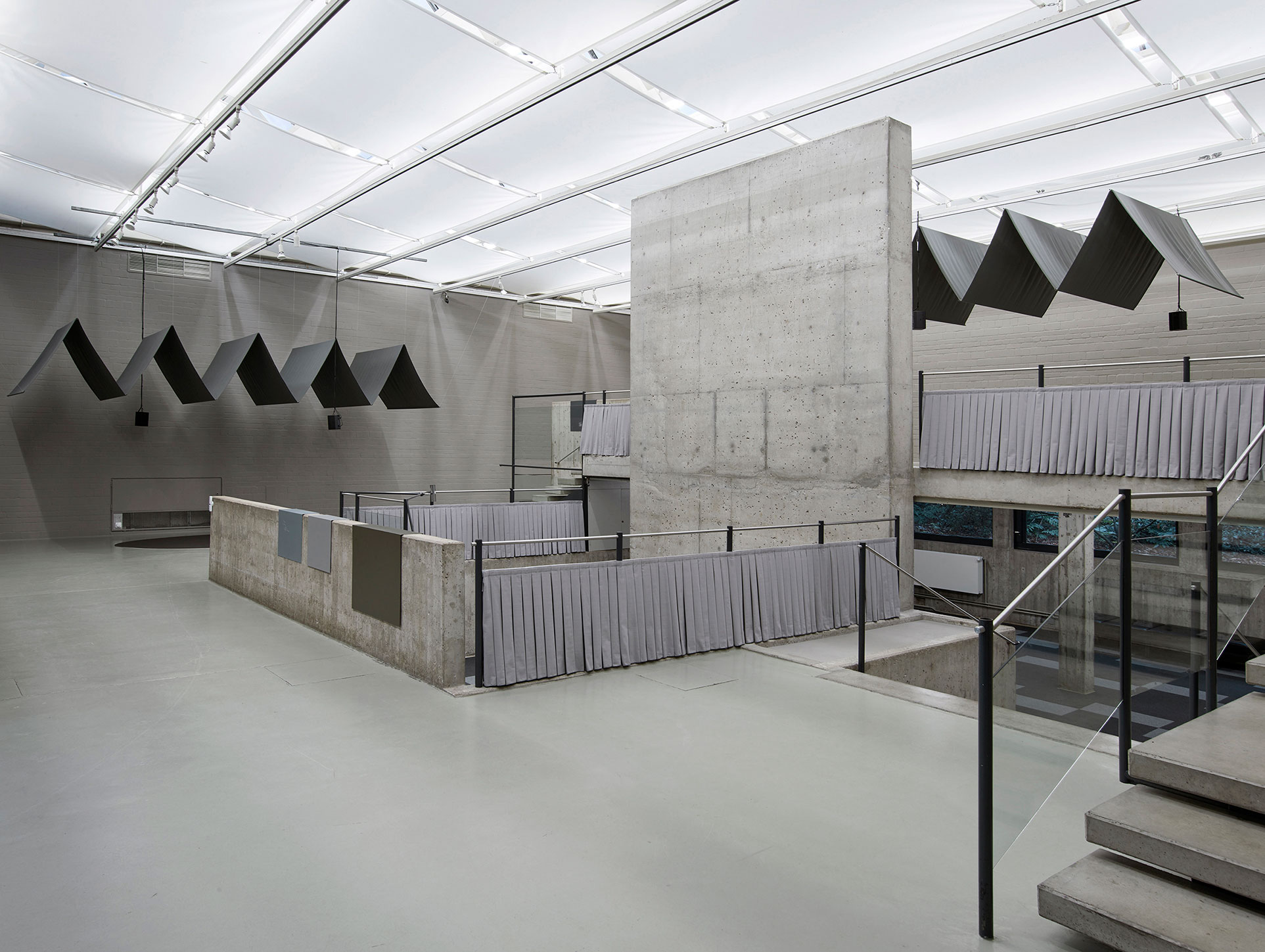 Installation view, Modified Limited Hangout, Kunsthalle Wilhelmshaven, 2018.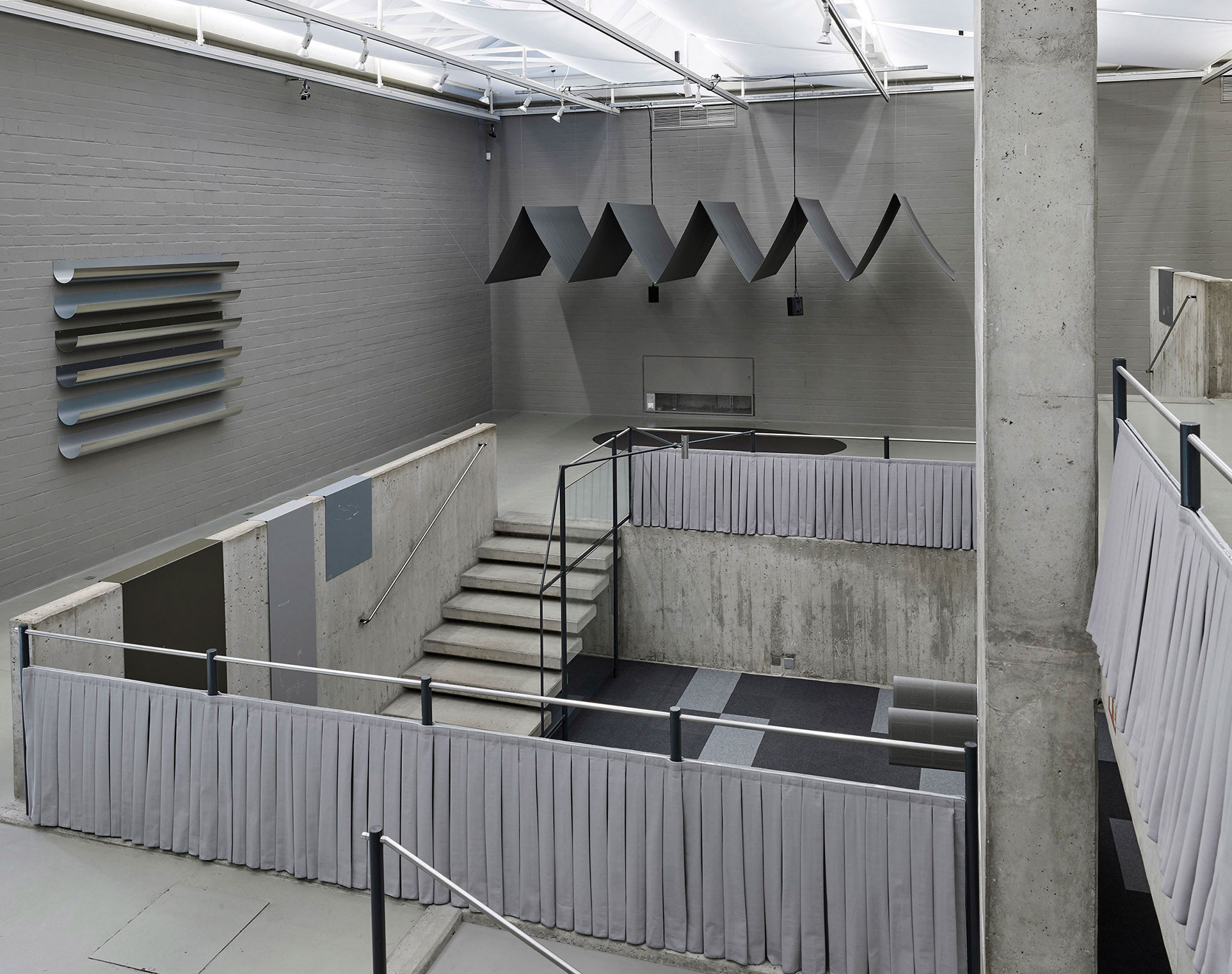 Installation view, Modified Limited Hangout, Kunsthalle Wilhelmshaven, 2018.
Ein wichtiger Aspekt meiner Praxis ist die historische Erforschung der politischen und sozialen Räume, aber auch eine konkrete Erforschung des urbanen Raums. Ich arbeite immer recherchebasiert, sehr oft auch projektbezogen, nach Möglichkeit ortsspezifisch oder auch mit Archiven. Vor allem bin ich daran interessiert, wie individuelle oder auch institutionelle Identitäten, Beziehungen oder Abhängigkeiten entstehen und wie diese vermittelt werden.
An important aspect of my artistic practice is the historical research of political and social spaces, but also a more tangible research of urban space. I always work research-based, very often also project-based, if possible site-specific or also with archives. Most of all, I am interested in how individual or even institutional identities, relationships or dependencies emerge and how they are mediated.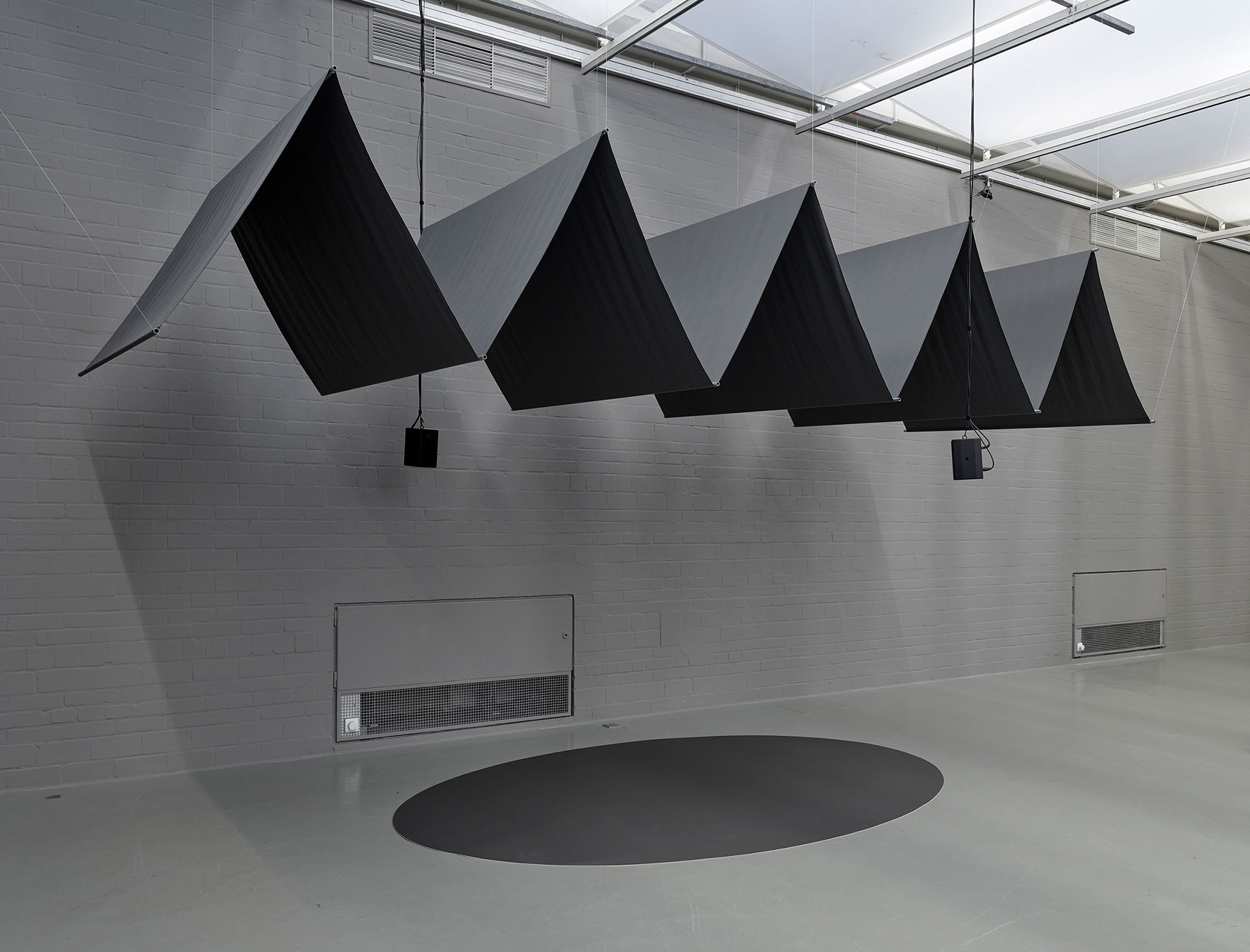 Mistakes Were Made, 2018, fabric, steel, nylon fishing line, vinyl, speakers, cables, media player, 600 × 200 × 330 cm.
audio (en) duration: 15:00 min. Installation view Modified Limited Hangout at Kunsthalle Wilhelmshaven, 2018.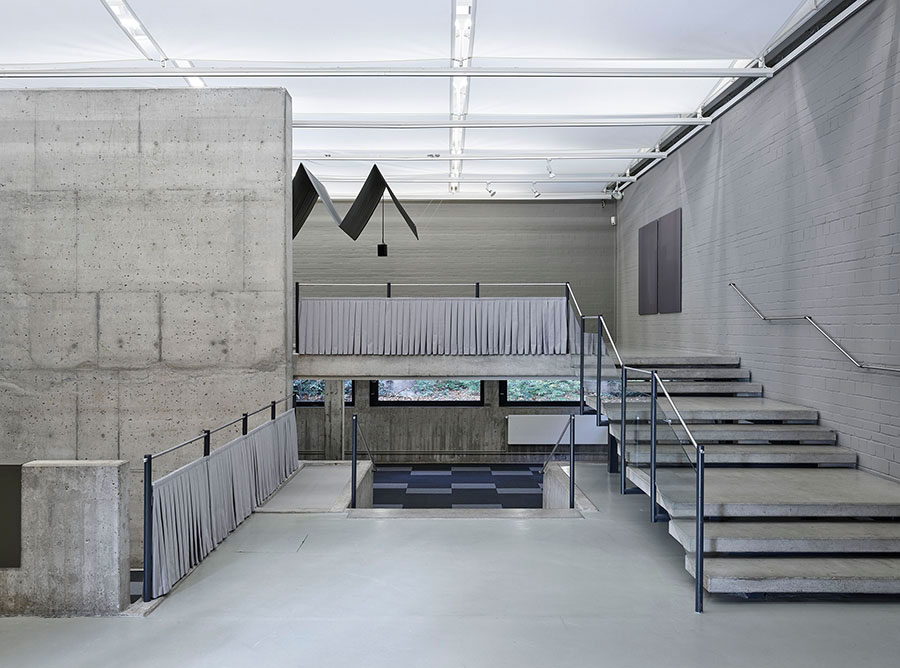 Installation view, Modified Limited Hangout, Kunsthalle Wilhelmshaven, 2018.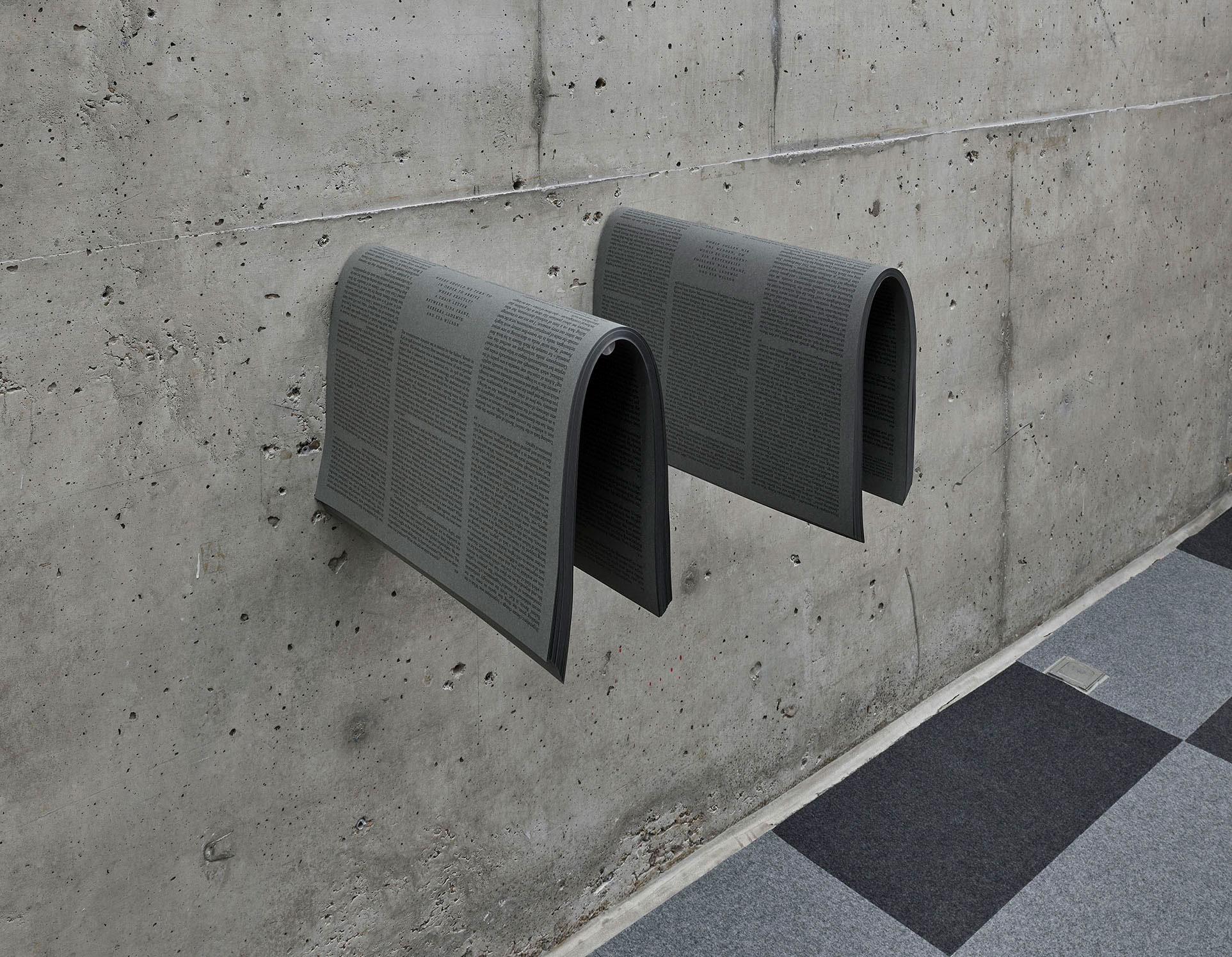 Where should we turn to in order to arrive where exactly?, 2018, poster, aluminium, 49 × 67 cm. Texts: Nina Franz, Rebekka Ladewig, Eva Wilson, Design: Studio Mathias Clottu.
Ich habe den Eindruck, dass man vor allem in der letzten Zeit sich zunehmend Bewusst wird, wie groß und schnell die Zeit im digitalen Zeitalter geworden ist. Man wird ständig von dem Gefühl begleitet, in dem fragmentierten Hier und Jetzt als Individuum sich diversen Kräften gegenüber machtlos und unbedeutend zu fühlen. Deswegen bildeten unter anderem Fragen zu aktuellen und historischen politischen Räumen, zu Positionen des Einzelnen in der Gesellschaft, zu Gemeinschaft und zu alternativen Zukunftsmodellen,aber auch zu gesellschaftlicher Zersplitterung den Ausgangspunkt für meine Recherche für die Ausstellung Modified Limited Hangout in der Kunsthalle Wilhelmshaven
Especially in recent times, I have the impression that people are becoming increasingly aware of how large and fast time has become in the digital age. In the fragmented here and now, one is constantly accompanied by the impression of feeling powerless and insignificant as an individual in the face of various forces. That's why questions about current and historical political spaces, about the position of the individual in society, about community and alternative models for the future, but also about social fragmentation were the starting point for my research for the exhibition Modified Limited Hangout at the Kunsthalle Wilhelmshaven.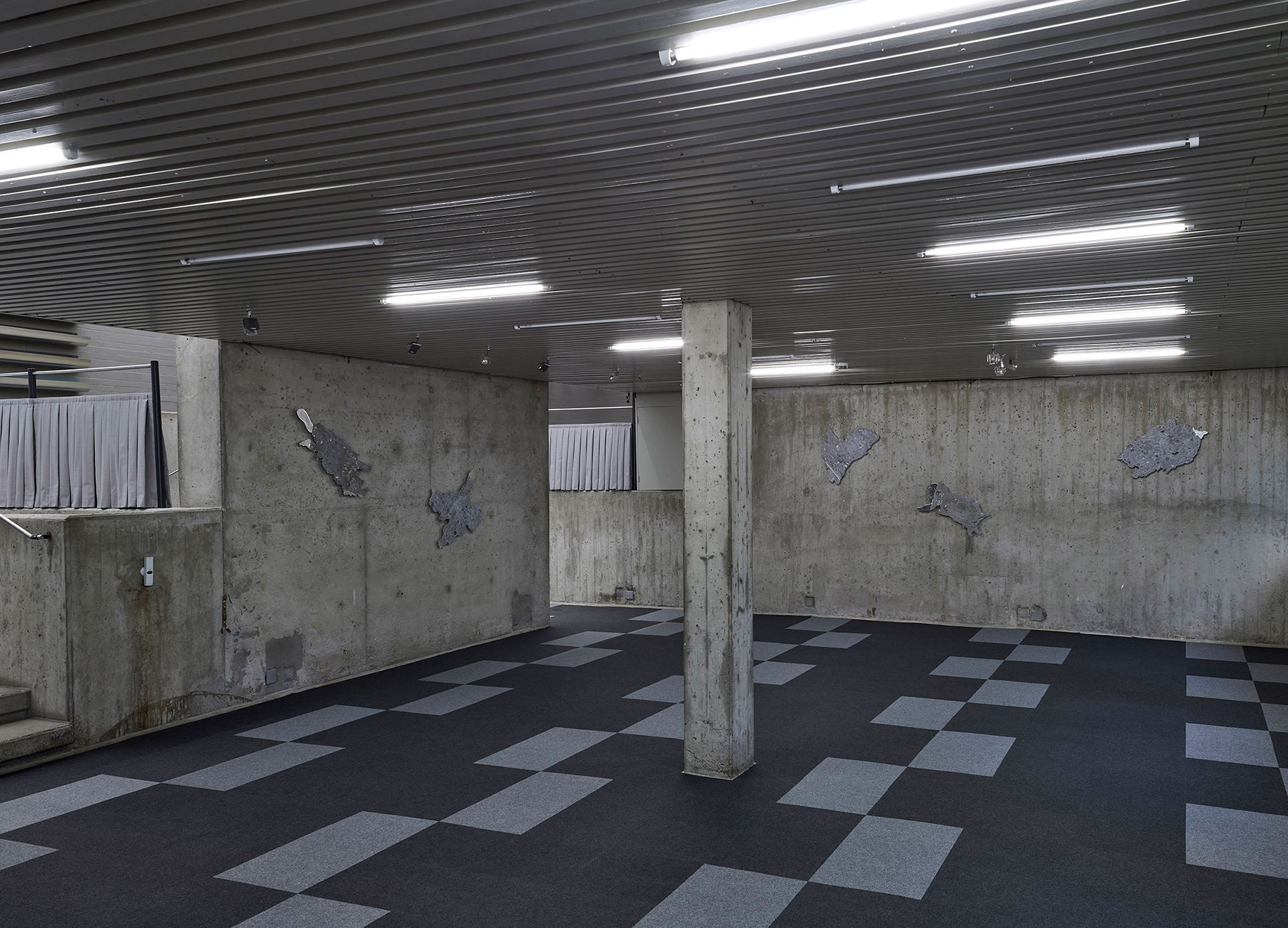 Voyage, Voyage, 2018, carpet, dimensions variable; Technocomplex, 2017, light sensitive coating on pewter.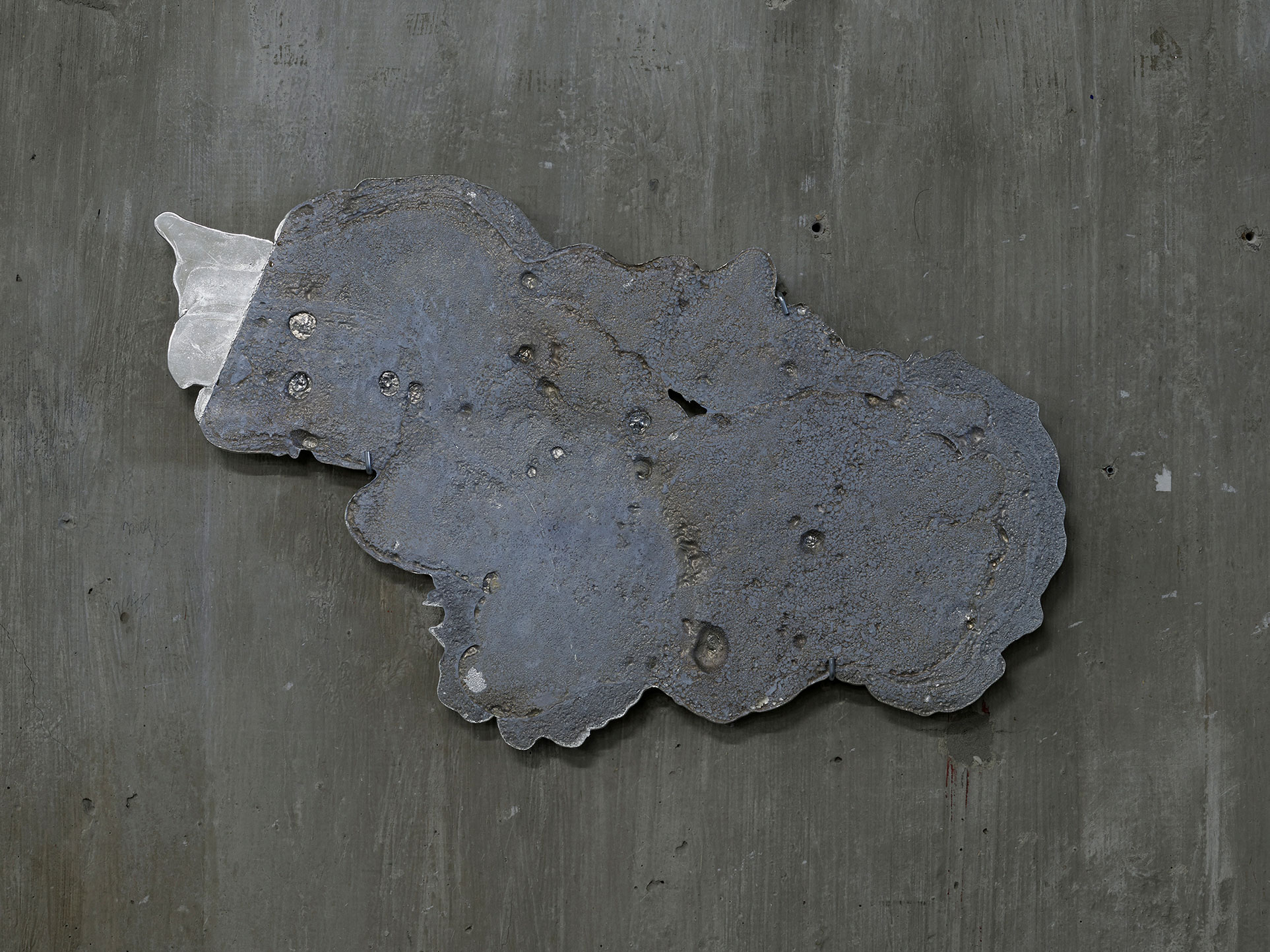 Installation view, Modified Limited Hangout, Kunsthalle Wilhelmshaven, 2018. Technocomplex 007, 2017, light sensitive coating, pewter.
Für mich gilt ein gewisser hyperräumlicher Zustand zu untersuchen, der Raum für Spekulationen bietet. Dieser Zustand berührt sämtliche Bereiche unseres Lebens, er ist nicht homogen und er ist voller Schwankungen. Modified Limited Hangout habe ich als einen Mikrokosmos konzipiert, als eine Situation, in der einzelne Elemente und einzelne Arbeiten in ein Ganzes zusammenfließen. Manche Arbeiten in der Ausstellung standen in einem direkten Bezug zu historischen Ereignissen und wiederum andere waren intuitiver entstanden oder als verbindende Komponenten gedacht. Das Material ergibt sich oft aus der Kombination Recherche und experimentieren im Studio.
I consider a certain hyper-spatial condition to be investigated, which offers room for speculation. This condition touches all areas of our life, it is not homogeneous and it is full of fluctuations. I conceived Modified Limited Hangout as a microcosm, a situation in which individual elements and individual works merge into a whole. Some of the works in the exhibition were directly related to historical events and still others were more intuitively created or intended as unifying components. The material often results from a combination of research and experimentation in the studio.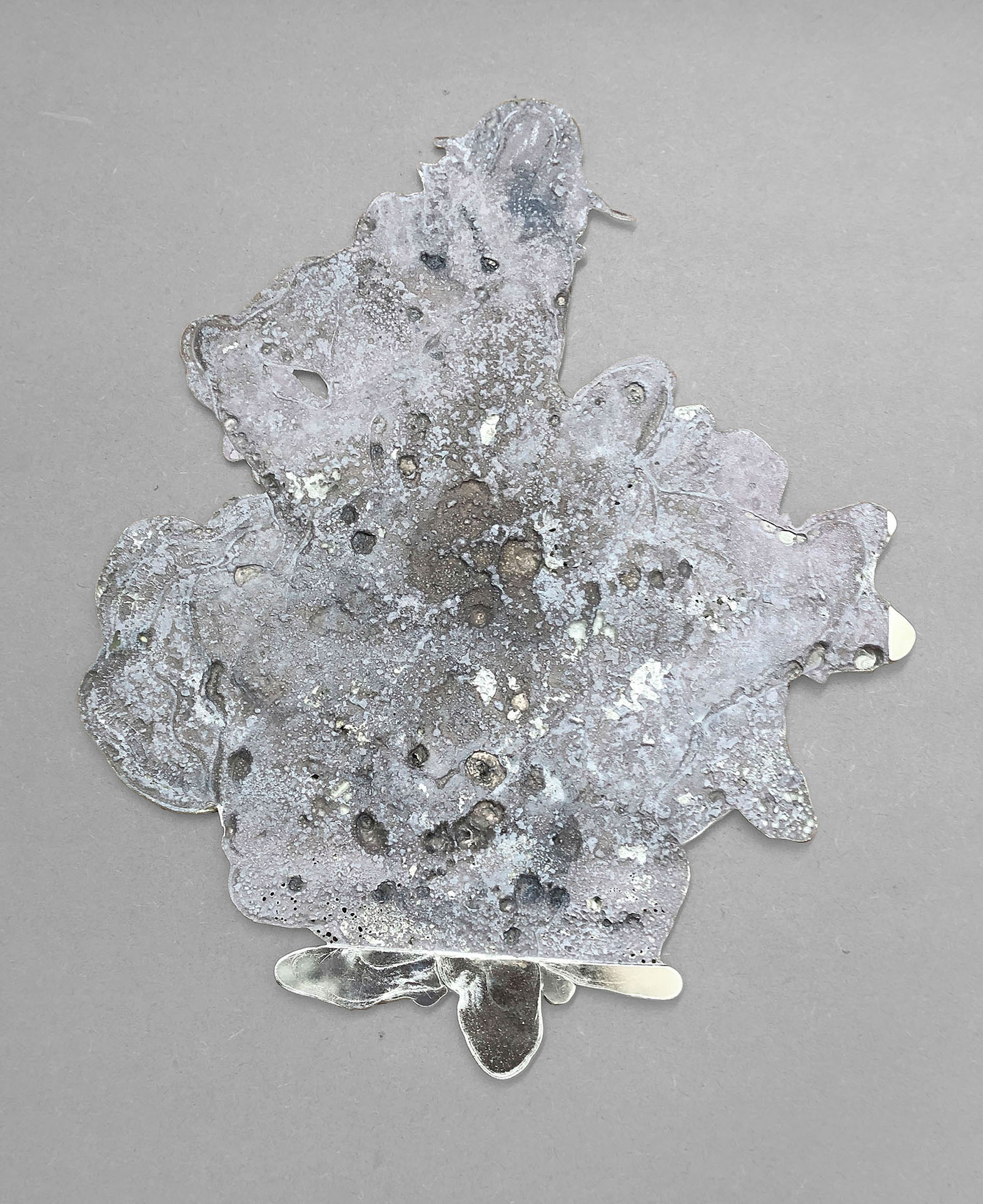 Technocomplex 018, 201, light sensitive coating, pewter.
Die Arbeiten, ob Fotografien oder Installationen oder Skulpturen, bauen immer auf einander auf. Sie sind wellenartig oder wie ein Echo. Bei jedem Projekt entstehen Fragen, die leicht abgewandelt weiterwandern, vieles kreist um die Auseinandersetzung mit Bild, Objekt und Raum oder Fotografie, Skulptur und Architektur. Es ist ein Liebesdreieck, es entstehen Abhängigkeiten zwischen den drei Elementen. Manchmal gibt es Abneigungen, es ist auch ein Spiel der Tarnung und Täuschung. Meine Fotografien sehen manchmal aus wie Zeichnungen oder Renderings, die Skulpturen und Rauminstallationen wiederum weisen oft performative Merkmale auf und Flächen werden modular in einen Raum verwandelt. Es entsteht ein Kräftemessen – wer zuerst zuckt, der verliert – es ist ein ständiges Drücken und Ziehen. Die Darstellung von Macht in meinen Arbeiten bezieht sich nicht nur auf die Darstellung politischer Macht, sondern auch auf meine Macht als Künstlerin gegenüber dem Objekt oder dem Bild.
These works, whether photographs or installations or sculptures, always build on each other. They are like waves or like an echo. In each project, questions arise that continue to wander slightly modified. Many things revolve around the examination of image, object and space or photography, sculpture and architecture. It's a love triangle, dependencies emerge between the three elements. Sometimes there are antipathies, it's also a game of camouflage and deception. My photographs sometimes look like drawings or renderings, the sculptures and spatial installations, on the other hand, often have performative features and surfaces are transformed into space in a modular way. A trial of strength ensues - whoever moves first loses - it's a constant push and pull. The representation of power in my work refers not only to the representation of political power, but also to my power as an artist vis-à-vis the object or image.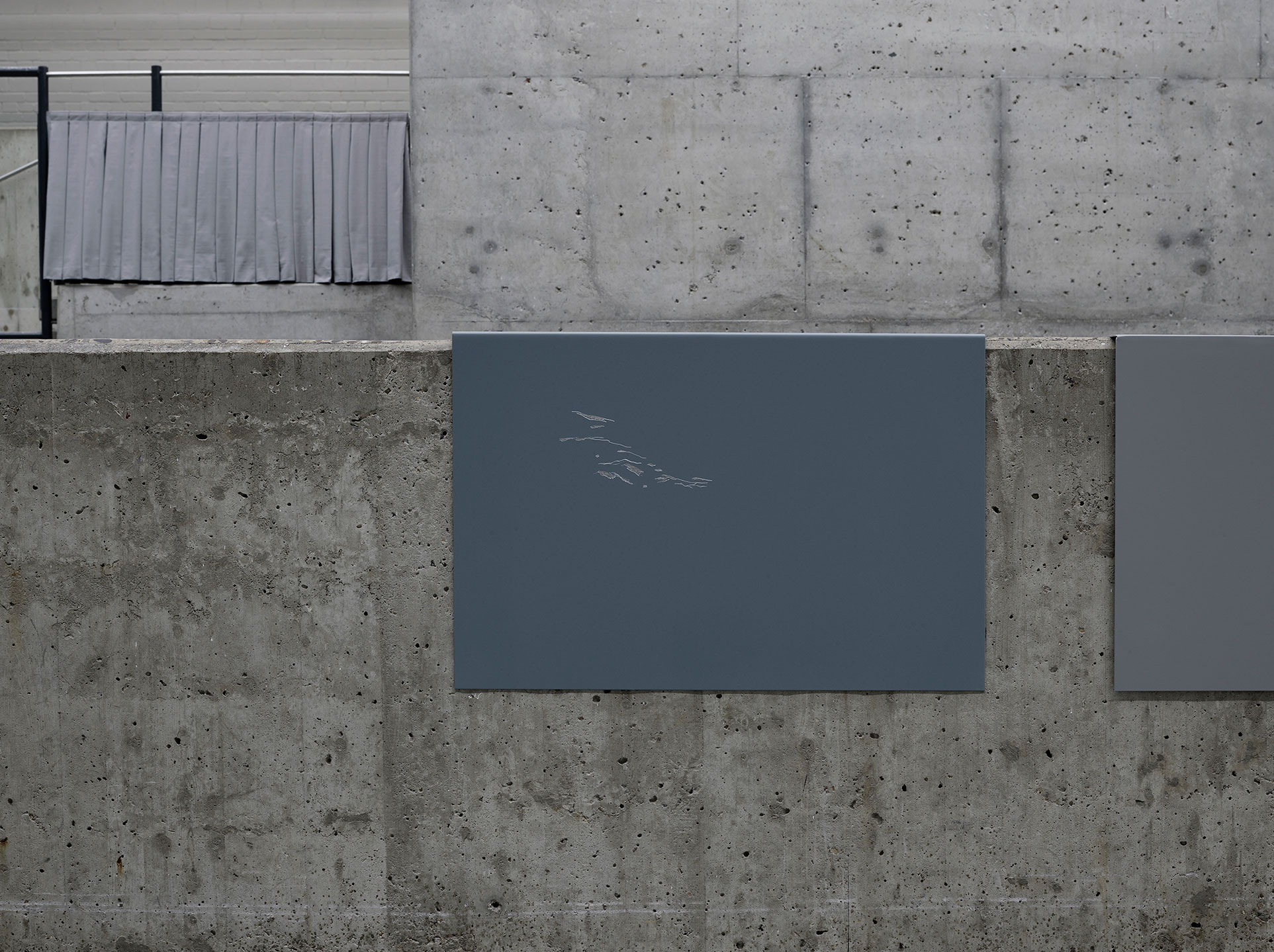 Simon says, 2018, coated aluminium, dimensions variable.